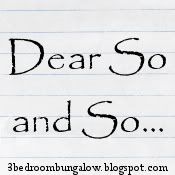 TGIF! Today at the Bee and Rose, we are participating in "Dear So and So..." presented by the fabulous Kat, over at
"3 Bedroom Bungalow!"
I love reading her posts and "Dear So and So..." is always a riot!

Off we go...


Dear Hermione Granger....
May I please borrow your Time Turner?
I'm running around like a crazy woman trying to accomplish many tasks, but getting nothing done. I know how much this lovely magical gadget helped you during your third year at Hogwarts. I'm hoping it will help me to get caught up on all of my projects and tasks around here. Would you please put in a kind word for me with Professor McGonagall about borrowing it?
I am truly enjoying your Spicy Hummus dip this summer! I also can't get enough of your Chocolate Covered English Toffee, Dark Chocolate Covered Edamame Beans or your Irish Breakfast Tea (especially yummy with a splash of heavy cream...heavenly!) Your Cedar and Sage Multipurpose Cleaner is making my kitchen countertops all shiny and clean too! I love you, Trader Joes! You're definitely worth the 40 minute drive!
Your Very Satisfied Customer,
You have made me a very sad little bee recently.
You kidnapped my blog for reasons still unknown...returned it (thank you...), but removed me from all of the blogs I followed! That was just plain mean, Blogger. So many bloggy friends thought I stopped following them and it hurt their feelings. That was a stinkin' dirty trick to play on us. The worst part is that you won't help me fix this issue and I still can't re-join their blogs! You suck, Blogger! Why do you tease me with leaving all my followed blogs in my Reader, but not let me re-follow my friends on their blog sites??? I know other friendly bloggers that you are torturing with this mess too...I know I'm not alone...I have two words for you, Blogger....WORDPRESS and TYPEPAD....
So wanting to kick your booty,
Wishing you lots of luck this weekend at the feis!

(an Irish dance competition pronounced "fesh"..)

I know you will dance just beautifully and have lots of fun with your friends! I am so proud to be your mama!
Dear Bloggy Friends and Family,
Thank you for sharing your votes with me over at my
Featured Reader Post at
La Dolce Vita
! I am still able to receive votes through Sunday! (For those who've asked, yes, I can receive multiple votes...one per person per day...) I really, really, really want to win this....
I am still in the begging and pleading state of being...my kids just shake their heads in pity at me when they walk by and see me at the computer whispering sweet nothings to this beautiful necklace....please, for my children's sake, clickety
HERE
to vote for me...my children would love to see me
stop groveling over
wear this necklace!
We are off to Phoenix for the feis this weekend! See ya'll on Monday! Have a wonderful weekend!