*Update: Just want to say thank you to everyone who sent me the most wonderful comments and lovely emails about yesterday's post! I am overwhelmed by your kindness and support! It means the world to me! Truly!
(if you missed it, just scroll down below this post...it's a Tuesday's Tribute (ahem..a long one, I know..) for my husband Chilly in honor of his first Heartaversary.)
Tag! I'm it! The lovely
Kristen
over at
La Dolce Vita
tagged me for a Bag Tag! So here's the scoop...
1. Show the current handbag I am using.
I'm in a weird "blast from my past" mood with my handbags right now. I alternate between my Vera Bradley backpack (an oldie but goodie) and my dear old friend, black Sak. Today it was the backpack because we had Irish dance. Want to take a look inside?

Let's see...we have the following items in the murky depths of Vera...

*Too Faced Chocolate Bunny Lip Balm *Sunscreen Stick
*Claddagh Coin *Keri Lotion *Notepad & Pink Sharpie
*Catherine's Ghillies (Irish dance shoes)
*Catherine's Princess Lipgloss
*Tissues *Hand Sanitizer *Cakesters (for Cat)
*Coupons *Wallet *Hair clip (yep, for park days! Cammie, it's going in the trash as soon as I cut my hair!)

Exciting stuff, isn't it? Some days you'll find bottled water in there too!
(If I was super cool like Kristina P., I would have a Sham Wow in there or a Bump-it Sandwich, but I'm not as cool as she is...she's my bloggy hero..I bet her bag is flippin' awesome...probably filled to the brim with really nifty treasures...ahh...I heart her....)
2. Share the price of the bag.

It was $88.00 (free to me...Christmas gift from my Mom!)

3. Tag some other cool chicks to join in the fun!

I am going to tag a newbie blogger to join in the bag tag-o-rama!

*momof3girls over at Land of Fluff
She is delightful! Please go give her a big old bloggy welcome! I just love her to pieces! Tag! You're it, momof3girls!

I am also opening this game of tag to anyone else who wants to join in the fun! Come on, bloggers! Be brave! Any guys out there with murses, man bags or such? Let's see what ya' got!

I also want to share a fabulous giveaway over at Jiggety Jig! Jenni is hosting this amazing giveaway that includes a gorgeous necklace from Kristen's Custom Creations! Kristen is the fabulous blog buddy that tagged me for the Bag Tag! I love Kristen's jewelry and her guitar picks too! Love it all! She is just amazing! Stop by and see her! You'll be glad you did! You must clickety on over to Jiggety Jig and see if you can get lucky with Jenni Jiggety!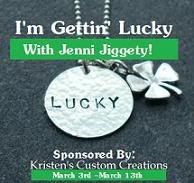 While we're on the subject of getting lucky...how many of you had this?
I'll shut up now (especially since I dragged you kicking and screaming down my very long memory lane yesterday!)