I am not a fan of the Javelina! They are hairy pig-like creatures from hell... (pronounciation: have-uh-leen-uh or you can just call them your favorite curse word)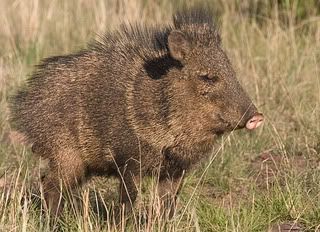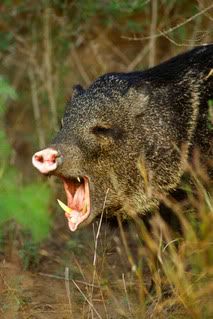 See those lovely spikes coming out of this stupid jerk's mouth? Those are TEETH! These devil's spawn are nasty business, and in case you haven't heard...I AM NOT A FAN!!!!
Now, just so you know, I love most creatures great and small...except for javelinas, scorpions, tarantulas and rattlesnakes...which sucks for me because I live smack dab in the middle of the desert. (Listen Javelinas, the Coyotes visit every day and they don't bother a thing. Why can't you take a cue from them and start showing a little respect when you come by for some prickly pear? Even the bobcat just hangs out in the back catching some rays without raising a ruckus.) I have tried to tolerate these creatures just for the sake of having to share ecological digs. But over the last few weeks, the javelinas have been wreaking flippin' havoc at my casa and I AM NOT HAPPY ABOUT IT! I went outside yesterday morning to water my beautiful geraniums and clover. This is what greeted me..(cue the horror music)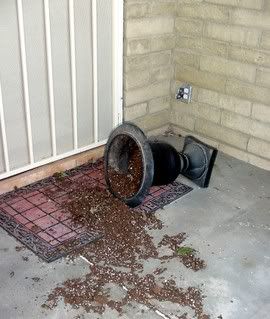 WHAT?!! What happened to my beautiful lush geranium and clover combo? Where were my little green and red friends? They were in some idiot javelina's stomach as appetizers, that's where! I know this because they've been caught in the act before! These little devils took down my other potted geranium 2 weeks ago. They also assaulted my grapevine snowman (oh, wait that was the monster that Cat murdered and buried in the back yard...sorry javelinas..) Moving on with my rant...they broke into a bag of trash my son "accidentally" put out front and partied like it was 1999 all over the front yard.
My father, the great javelina "spooker", loves to yell at them...this usually takes place at about 1:00 am...much to my neighbor's delight, I'm sure...but hey, it scares the heck out of these pig-like dummies and they usually scurry off. (You should see the fit of giggles this activity gives my dad...lol!)
What to do? Hmmm..I guess it's time to fence in the courtyard out front lest my unsuspecting children and I become their next victims. (well, it's more like they will become our victims...Cat will probably go all sorts of kung fu on their be-hinds and Connor will probably fashion a weapon out of the pool skimmer pole...)
Do not be fooled if you ever see these guys...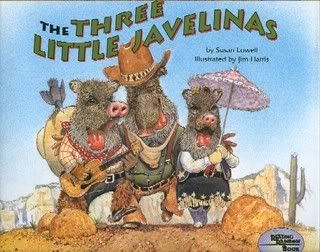 This is why...
1) Real javelinas don't carry parasols, wear western clothes and sing cowboy songs around the campfire
2) Their teeth are much bigger and sharper
3) They're usually on all fours...if you see them standing upright, you better run like hell!

p.s. Please don't be a hater and think I am an evil person for my disgust of the javelina...at least I don't super stomp them the way I do the scorpions... hey, you would too if it were about to poison one of your children or pets!!
p.s.s. Yes, I know javelinas are not pigs, but peccaries. They are not the razorbacks you see in other parts of the US. However, they are stinky (literally, you can usually smell them before you see them) and can at times be very aggressive toward humans and their pets. They brought on my wrath with their rotten treatment of my pretty little geraniums and by strangling my grapevine snowman with his bandana (oh right...that was the monster...or was it?????)! Stinkin' Freaks! (and don't worry about our new baby, Gordie. When he's not attached to my parents hips, he is safely ensconced in our walled-in backyard. No desert creature will get him....ever...cause that would incite a major riot of epic proportions...)
p.s.s.s. I will be much calmer for tomorrow's post...lol!