I came home Saturday afternoon from running errands to find this on the ground in front of the house.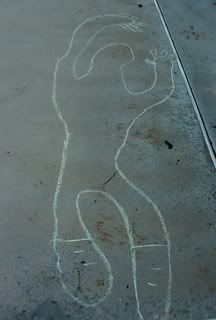 Apparently, a monster had been murdered. A monster with bad shoes. I ran inside to make sure my kids were safe. No one was inside. Uh oh....

I took my camera and headed out to the west side of our property where I heard voices. (cause I have to take pictures of everything that happens to us...and who knew what kind of monster killer was lurking around...maybe a Sasquatch or something cool...) What (or who?) the heck could've murdered a monster at my house? Was this the creature that destroyed my flower pots and assaulted our snowman the other day? I thought it was the javelinas. Hmmm... (Yes, I live in the desert...yes, I have a snowman...he's a grapevine snowman...there's a photo of him in blogpost "Moon Sand and Marshmallows"..go see him! He's cute!) Back to the monster murder...

When I got out to the back 40, this is what I discovered...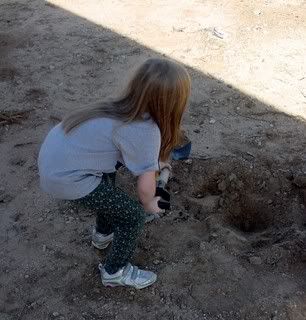 Catherine was putting the finishing touches on something she had buried. What the?!?! When she saw me, she did this...


I think I found the monster killer.....just sayin'.....

Now on to the happy ending! After busting my daughter burying a monster in the backyard, I came in the house to blog...(cause I can't pass the computer without looking at my blog...sick, I know...) I found that I had been given an award by my blogilicious friend, More Mindless Rambling, who you have to go visit! She's blogfabulous and you will laugh your booty off over there! Here's the scoop...
She awarded me with this lovely (and most appreciated) Friends Award! If you had a magic snowglobe like Santa and could peek in on me, you would see that I wore my special pajamas...I mean formal ball gown...just for this occasion. Ok..here's the fine print I am supposed to share with ya'll...
"These blogs are exceedingly charming. These kind bloggers aim to find and be friends. They are not interested in self-aggrandizement. Our hope is that when the ribbons of these prizes are cut, even more friendships are propagated. Please give more attention to these writers. Deliver this award to eight bloggers who must choose eight more and include this cleverly-written text into the body of their award."
And now it's my turn to spread the love around blogland....I award the following:
*Andrea at The Hall Family
She's very sweet and a wonderful bloggy friend!
*Susan at What happened to my house?
She has a Wii Fit and that's super cool!
Claire at A Soldier, A Princess and Me
She quilts, writes great stories and I love her blog!
April at April Showers
Super blogilicious blog (and she just had a birthday!)
Mindylew at captured at 1point8
I love Mindylew! I love that she uses blackout bars in her photos!
babyrocasmama at Last Shreds of Sanity
HILARIOUS! You have to read this blog!
Dawn at Embracing the Ordinary Life
She's a lovely person with a wonderful blog!
Jess at Nerdy Jess
She's got sass!
(I'm gonna break the rules and add some more...cause I'm a rebel!)
Cammie at Life at the House of No Sleep
This chick rocks! Funny, funny stuff!
Pam at Country mouse, City mouse
She oozes kindness and goodness..go on over for some love...
Kate at Clueless in Columbus
She makes me giggle
**Special Mention**
Jillene at Jillene's Journal
She is simply the best! She always has kind words and definitely is a warm fuzzy kinda gal! You rock, Jillene! Thanks for the support!
You ladies are superstars!
Don't forget to grab your award!

Whew! Now scoot along and give some linky love to these lovely ladies! (oh..still haven't figured out the linky thingy...just go to my list on the sidebar and link away!)
ps...(you knew I'd have one...) My husband made a funny this morning..at my expense, of course, but still funny...here it is..
Me: "Chilly, you know in Feng Shui, Chinese(??) is the color of good fortune."
Chilly: (after looking at me with a long pause..) "Yeah and stupidity is a sign of dumbness." lololol...for me thinking Chinese is a color.....(I meant to say red...hey, it was 5:30 in the morning...my brain was still with Liam Neeson in Land of Nod....)