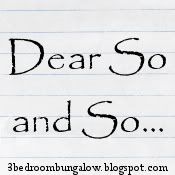 Oh, Dear So and So...I have missed you! I realize I'm getting this in late, but we've
been busy around these parts today! "Dear So and So..." is presented b
y the fabulous Kat, over at
"3 Bedroom Bungalow!"

Here we go....

Dear Toasted (aka Burnt) Marshmallows,



Your crispy, burnt exterior and warm, gooey goodness kept calling to me in the
night. I desired you so much last night that in my sheer desperation for you, I slapped a Jet Puff marshmallow on a fork and lit it up with my long handled candle lighter while hiding out in the kitchen. What are you doing to me, marshmallow????
I craved
marshmallow cream and toasted marshmallow jelly bellys all day long! Alas, you are
bad for me, my fluffy friend....so I must say good~bye for now...
I will miss you,
Dear Target,



Apparently, your hand sanitizer smells like cheap hooker perfume. Normally, I'm not a fan of the hand sanitizer, but with the multiple visits to the hospital with Chilly, I've decided to break my hand sanitizing ban to protect us against more flu. The minute I slathered it on, a lovely gentleman in the waiting room piped up, "who smells like the
French w***e (rhymes with door) in here?" Niiiice..... The first time I used it, I actually thought my husband had visited a brothel...I kept grabbing his shirt and smelling him (and my
sanitized scented hand) and was wondering what Chilly was really up to when I wasn't around! Poor Chilly! Fragrance free would save a lot of marriages, Target!

Just sayin,
p.s. What did you decide about the a$$ gaskets? I mean, really...you are one of the largest retailers in the world and you can't provide your customers with a$$ gaskets in the restrooms??? Whaddya' say?
Dear Sexiest Male Accent in the World,



When I heard that you won this contest, I was giddy with excitement! I knew you would win! There's no accent better than you!
I swoon every time I hear you float out of some hottie Irishman's mouth! (Don't worry Chilly...I ordered some Instant Irish Accent
Mouth Spray for you....I know...how nice of me!)

Blushing,

Dear Irish Dancer Girl,



Wishing you lots of luck with your Irish dance performance at the Celtic Festival on Saturday! You are a "reel" princess, my darling girl!

With Love,
Have a wonderful weekend, fellow Blog~Land~ians!

XoXo!