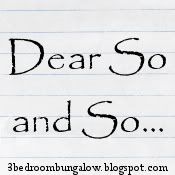 TGIF! It's another exciting edition of "Dear So and So..." presented b
y the fabulous Kat, over at
"3 Bedroom Bungalow!"
Let's rock this bloggy!
Dear Glee,



I LOVE you! You make me laugh and feel the warm fuzzies! My Wednesday nights are so much brighter because of you. My TV says thank you because it thought I'd forgotten it existed. I love watching the "Gleeks" sing their hearts out! Glee, you're the
best!

Your Biggest Fan,
Dear Halloween,

I've decked the halls with ghoulish decor over the last few days because I want to squeeze every bit of wicked goodness out of you this year! I am anxiously awaiting the arrival of this little goodie.....the Broomba...


(This life~size broom is motion activated and will move, twirl and cackle across your haunted home all by itself!)
I am also loving caramel apple cider, pumpkin spice lattes, and other pumpkin treats too! Oh, All Hallow's Eve, I simply adore you and all of your autumnal splendor!

So Excited to Celebrate Autumn,
Dear People Who Talk to Chilly When We're Out,
Just thought I'd give you the 4~1~1 that you can talk in your normal tone of voice to him even though he's in a wheelchair. You don't have to raise your voice for him to hear you. He's not deaf. The wheelchair doesn't take away his ability to hear you. Also, he is 41 years old...not 4. He enjoys adult conversation. You are just making yourselves look like complete idiots when you talk to him like he's a hard of hearing little boy.

Please learn some manners,

Dear Exhaustion,
GO AWAY...I don't have time for you....

zzzzzzzz.............

Have a fabulous weekend! May it be filled with lots of Autumn beauty!