If ever there was a day for a "Fragments" post, today is THAT day!

Join the Friday Fragments Fun over at Half Past Kissin' Time
!
You'll be very glad you did! It's a great way to clear "the static from the attic!"
I also have a few Dear So and So's to write....
"Dear So and So" is presented by the always wonderful Kat, over at
"3 Bedroom Bungalow!"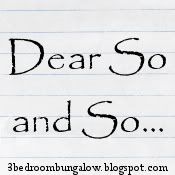 **Remember my nifty thrifty post from yesterday...the one where I share my white vinegar fabric softener tip? Many of you emailed me to ask how much to use...I'm such a ding-a-ling that I forgot to include that little tidbit! Here's what I use....I usually use about 1/2 cup to 1 cup depending on my mood...some folks (like me) just use it straight, pouring it right into my rinse dispenser....others (adding it to their rinse dispenser) will dilute it with water. Occasionally, I add some drops of essential oil to the gallon jug of vinegar. You can use it without essential oil as well. The laundry won't have a vinegar smell. It has saved me LOADS of money! My daughter is chemically sensitive so it's been great for her clothing! (perfect if you are on a septic system too!)
**

Friday Feng Shui Tip

: Add lots of yellow to your health area to promote wellness! The health area is found in the very center of your home. My kitchen is in the center of my home so I have lots sunflowers there! You can also apply this to each individual room by placing something yellow in the center.
**To celebrate Almost Teen Caveboy's birthday on Monday (when he will be henceforth known as (yikes!) TEEN Caveboy), we are giving him an extreme room makover. (I will be a painting fool for the rest of today and probably throughout the weekend.)

**

Friday Fairytale

....Irish dancer girl loves this photo of the "real" Snow White! (It's actress, Rachel Weisz...taken by Annie Leibovitz...)
~~~~~~~~~~~~Let's rock a few "Dear So and So's"~~~~~~~~~~~
Dear Blogger,

While I'm grateful that you have "allowed" me to join NEW blogs, I would really like it if you could restore me to my "OLD" previously followed blogs. You are a big, fat liar when you pop-up the "Site Owner is blocking you" message. I know this because of research, Blogger, and because my bloggy friends told me they weren't blocking me. I also know it's a "cache" problem...Just fix it already!!!! A month of this crap is enough!

Annoyed and Wanting to Spit on You...

~~~~~~~~~~~~
Dear Javelinas,

STOP coming into my yard at night and wreaking havoc! If you don't, you will find yourself on the receiving end of a sharp arrow in your very hairy behind!

Ready to Shoot You,
~~~~~~~~~~~
Dear Idiot Lady at the Lowes Paint Counter,

You are one of the rudest people I've ever met. I find it hilarious that you tried to scam me out of an extra $10 per gallon of paint. I wasn't born yesterday, sistah....Your customer service skills SUCK. By the way, my father has been a custom home builder for over 35 years. I KNOW what I'm doing, you horribly disrespectful person! Your condescending tone only made me laugh at your pitiful attempts to try to bully me into buying more items than I needed.

Wake Up and Take Some Etiquette Classes,
~~~~~~~~~~~~
Dear Chilly,

STAY IN YOUR OFFICE TODAY! You don't want to have any more "ectomies", do you? I am busy renovating the Almost Teen's room today and don't have time for ER trips with you. Got it?

Your Loving Wife,
~~~~~~~~~~~~
Dear Bloggy Friends and Family,

Have a restful, joy filled weekend!

xoxo,