Hooray! It's Friday! Time for Fragments Fun and a Dear So and So bonanza!

Join the Friday Fragments Fun over at Half Past Kissin' Time
!
Also, join the ever delightful Kat, over at
"3 Bedroom Bungalow!"
for more Dear So and So" fun!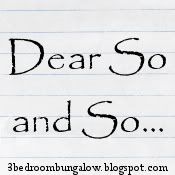 Dear Future Groom of Irish Dancer Girl,

My prayers are with you...just sayin'....

Wishing you tons of patience and hoping your bank account is LARGE,

Your loving future M-I-L...

~~~~~~~~~~~~

Dear Chilly,

For you....courtesy of the Ministry of Homeland Security...


Don't say I didn't warn you,

The Woman Who Will Go Kung Fu on Your Booty if She Doesn't Have Some Chocolate

~~~~~~~~~~~~

Dear Blood Pressure,

Thank you for being 117/72 this morning. My heart is grateful. I know yoga and happy thoughts are keeping you this way.

I love you,

Your biggest fan

~~~~~~~~~~~~~~~~~~~~



***Cat wanders by the computer while I'm googling info on the Perseid meteor shower. She asks me what I'm doing...I tell her I want to know where to find shooting stars....She looks at me (with her "you are such a moron" look) and sighs.."Duh, just go on shootingstar.com." Well, of course! Why didn't I think of that!? I guess I really am a moron!

***I am LOVING these shows right now...



Adorable couple! I love this show!


Smart and funny....fantastic writing....love it!


The costumes and set design alone make this show worth watching!

(and I can't stop watching Big Brother After Dark on Showtime...totally Chilly's fault...)

***My Guilty Pleasure...I can't get enough of these two yummies together....




***Friday Feng Shui



Rev up your Fame and Reputation area with some red and fire! This area is found in the back center of your home. Add red or warm colors, candles or pointy objects to get some good energy going with your fame and reputation!

I found this fabulous Bagua map

HERE....




Check out

www.fengshuiforreallife.com

for fabulous Feng Shui information! I like this bagua for it's simplicity. The website is filled with wonderful tips and info!



***Friday Fairytale



Check out this fairy jig! I caught this wee fairy dancing around outside!



Happy Friday!
xoxo
Dawn