First off, how many of you saw these guys yesterday?
That's right, baby! We got us some Sleestaks! As I wandered through my family room past the cavemen grunting and pointing at the bigger cavemen tossing around a pigskin on TV, I decided to take a load off and sit for a minute. Imagine my PURE delight when I saw the commercial for the re-make of "The Land of the Lost" starring Will Ferrell!! The cavemen on the couch couldn't understand my excitement...duh, Dawn, they're cavemen...but I jumped up and began blabbering all over about Sleestaks, Will, Holly and their little freaky caveman friend, Cha-ka (who reminded me alot of the smaller caveman on the couch..).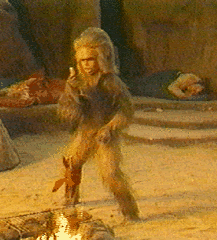 That sent me down memory lane reflecting on all the great Sid & Marty Krofft creations that I would spend every Saturday in the 70's watching on our TV. Do you remember any of these??? (Now, if you are a young whippersnapper, you will now completely understand the title of my blog...you will be thinking, "gosh, these are super oldies! I've never even heard of this stuff! She's mental!") Stay on board, friends! You will soon see that your kiddos are heading down the same trail!!!
Here are a few flashes from 70's Saturdays with the Krofft brothers...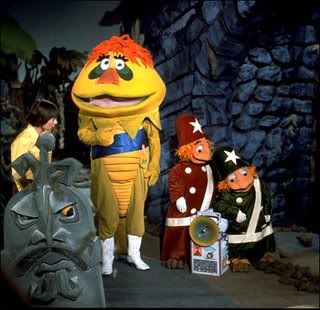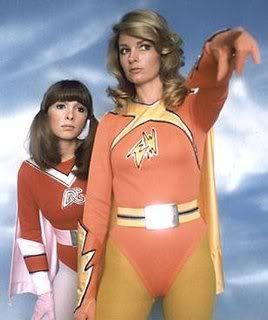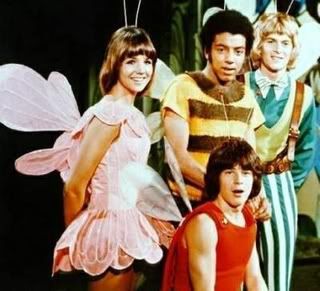 Can you name any of these fabulous characters or the shows they starred in??? (I will give the answers in tomorrow's post.) No, they are not as CGI cool as today's cartoon buddies. Yes, the dialogue is super cheesy. But my heart flutters everytime I see these old friends from the 70's. Let's just say that my Saturdays rocked with these cool cats, the Bay City Rollers and playing outside for hours and hours because there were no sicko perverts on the loose. What are some of your favorite flash from the past memories?
These days kids don't have the pleasure of the Saturday cartoon. These lucky devils have cartoons at their disposal 24/7! Remember how I mentioned above that your little lovies are heading down the same path? Here's proof...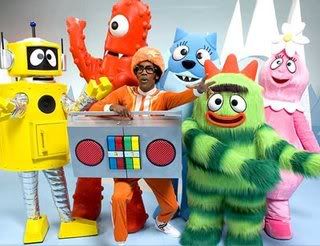 Hmmm..these look very 70's to me.....
Now...on to part 2 of my post...I was reminded yesterday of a great weight loss motivator shared with me by my lovely 6 yr old daughter. She so lovingly reminded me of this "happy" memory while we were icing cupcakes. Here's the story...Over the summer, my sister & nephew came for a month long visit. We decided while she was here to jump in and start a commited diet and exercise program together. We were doing a walking dvd one morning when Catherine meandered in. What she said next made me lose 30 lbs (no joke!) in a couple of months...Here it is... are you ready???
"I smell fatness in here..." WHAT?!!
Yep! She smelled fatness, all right! Because after that, I burned off fatness faster than you could say "fat chick"! That little stinker! Leave it to her to speak her mind and make me lose weight! So there you have it...whenever you are feeling like you just can't get those few last pounds off, just think of the smell of fatness. I guarantee they will be gone quick!
As usual...I have rambled on and on....thanks for hanging with me...again!
p.s. My daugher just asked me to read this post to her...she was horrified that I was subjected to such horrible Saturday morning entertainment...When I read the part about her "fatness" comment, she narrowed her eyes and said, "I still smell fatness..." LOLOLOL!!!!! Guess I better get to exercising!