I woke up this morning to find that my husband had left the TV on all night. I was about to nag him about the cost of electricity, how much this disturbs your sleep pattern, blah, blah, blah, when I rolled over toward the TV and saw this....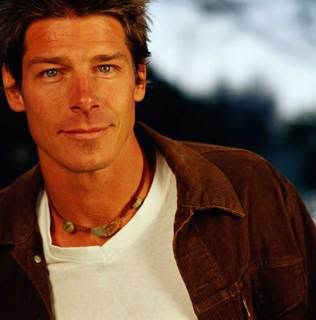 Oh yeah...that's right...Ty Pennington was plastered all over the TV screen...I stopped nagging in mid-sentence and curled up in my blankie...(cue the Barry White music...)
It seems that this hunkalicious hottie is in my neck of the woods today....mmmm....and it seems that at 2:00 pm, he and the crew from Extreme Makeover Home Edition will be doing a big family reveal not too far from me....yuuummmmyyyy......what's a girl to do????
I start planning my day...hmmm...Cat has dance in Tucson at 3:00 just down the road from where this big reveal will take place...let's see...can I...oops, I mean can Cat & I make it there and get to dance in time???? (I'm getting all bubbly feeling inside...) What should I wear? How should I do my hair? Ohhh, so much to do and so little time to do it!!! Can I get an extreme makeover in time to go see his extreme makeover? I better get hoppin'!
I hear my nerdanderthal husband grunting something at me. Gee thanks, Chilly, for reminding me that I'm married. Ugh! Can't he see that I have to get ready for my makeover??? "You're dumb," he grunts at me. I giggle at him cause he's just jealous. I mean, Ty Pennington...hot and handy! Wow! And he has his own line of bed linens!! Does it get any better????
My husband is looking at me like I've completely lost my mind. That's when it occurs to me...I am a huge NERDanderthal too! Yes, that's what looking at Ty Pennington does to me....turns me into a blubbering, lusty wench...I mean nerdy girl. (cue more Barry White music please...or Marvin Gaye's "Let's Get It On" would be lovely too...) Well, that's fine by me...NERD away, I say!
I sigh and come back down to earth...my hopes of a fantasy meeting with Ty clearly dashed by the nerdanderthal. (Oh, Chilly, you can go ga-ga and drool all over Kara tonight when Idol comes on...you know you will...oh, and by the way, Chilly...sorry we don't have Comcast...lol! private joke...)
Now it's time for me to get on with my makeover...I mean, my school day...I'll let ya'll know how dance class goes...wink, wink...
p.s. Chilly, you're the best...even if you do have a crush on that dumb Jenna girl...blech...
p.s.s. The answers for yesterday's post...1)H.R. Pufnstuf 2)Witchypoo 3)Sigmund the Seamonster 4)Electra Woman & Dyna Girl (yes, that is Dr. Marlena Evans from Days of Our Lives..) 5)Mighty Isis 6)Bugaloos